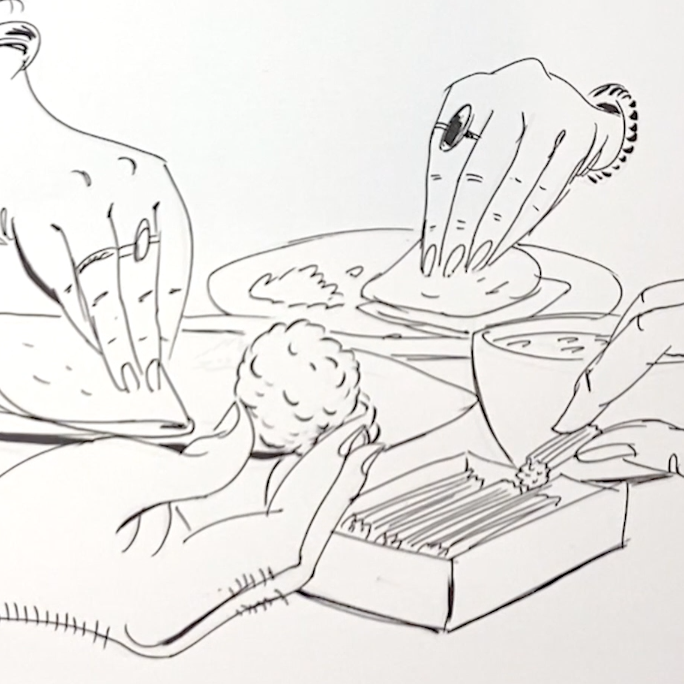 Musicworks presents THIRD CULTURE, a series looking into the ways our identities intersect and diverge. 
In our inaugural episode, MW director Jesse Neuman speaks with Indian American Shreya Raghuraman about her relationship with traditional Indian food, and how dreaming of crustless pb&j, $8 turmeric milk, and shopping mall food courts factor into her ever evolving palette. 
Illustration by Michael Marsicano, www.MMillo.com
*From Shreya:
A fun read: Padma Lakshmi is an author and cooking show host who recently published this hilarious response to a comedian's column disparaging Indian food.
Must follow on Instagram: Cookalore is managed by an Indian food writer, Priya Mani, who is working on a visual encyclopedia of Indian food from A-Z. Her posts are stunning, but also highly informative and spotlight an awesomely wide range of ingredients not "common" in Indian-American restaurants.
A recipe: One of my favorite traditional South Indian recipes is Tomato Rasam. Super easy to make and extremely satisfying - this site shares a pretty traditional recipe and is a great start for anyone looking to venture beyond the Indian restaurant menu
for educational use only
please support these artists by PURCHASING their work

musicworksNYC.org
instagram.com/musicworksarts
musicworksNYC@gmail.com